Around 1.1 lakh schools in India are single-teacher entities, according to
Unesco
's '2021 State of the
Education Report for India
: No Teachers, No Class'. A total of 19% or 11.16 lakh teaching positions in schools lie vacant in the country, 69% of them in rural areas.
Correlating this with low learning outcomes according to government data of classes III, V and VIII, Unesco recommends improving the terms of employment of teachers, revamping their working conditions in villages besides earmarking 'aspirational districts' and recognising teachers as frontline workers.
Having underlined that 7.7% pre-primary, 4.6% primary and 3.3% upper-primary teachers are underqualified, the report that factors in 2019 data, states in its executive summary: "The ongoing Covid-19 pandemic has further highlighted the role played by teachers and quality teaching in ensuring meaningful education and resilient education systems. Women account for about 50% of the teaching workforce (in India), but there are significant inter-state and urban-rural variations".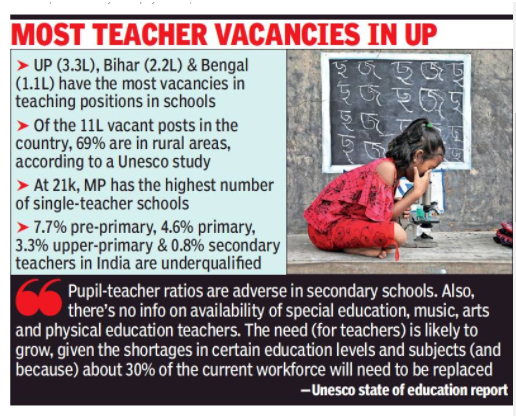 Three states with over one lakh vacancies are Uttar Pradesh (3.3 lakh), Bihar (2.2 lakh) and West Bengal (1.1 lakh). The Unesco report accords them the status of the three worst states in this parameter. MP has the highest number of single-teacher schools (21,077).
Most of the vacancies are in rural schools like in the case of Bihar, where of the 2.2 lakh teachers required, 89% are in villages. Similarly, of the 3.2 lakh posts lying vacant in UP, 80% are in schools in rural areas. For West Bengal, the figure is 69%.
Analysing data from Unified District Information System for Education, the report states there is a marked rural-urban disparity and a need to improve availability and deployment of qualified teachers in northeast.
'Need to build career pathways of teachers'
On teachers' qualification, the Unesco report says about 16% of preprimary, 8% of primary, 13% of upper primary, 3% of secondary and 1% of higher secondary teachers are underqualified in Bihar. Of all the underqualified teachers at the higher secondary level, about 60% are in private unaided (recognised) schools, while 24% are in schools run by the department of education.
The report recommends building teachers' career pathways, restructuring preservice professional development and strengthening curricular and pedagogical reform and provide meaningful ICT training.
As per the findings, "while teacher availability has improved, pupil-teacher ratios are adverse in secondary schools. There's no information on availability of special education, music, arts and physical education teachers. The availability and deployment of subject teachers too, is not well documented and monitored. Almost all single-teacher schools are in rural areas, and the provisions of school libraries and information and communications technology infrastructure are very low.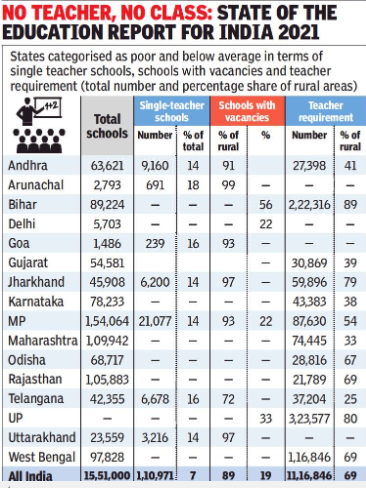 The report documents "the need (for teachers) is likely to grow, given the their shortages in certain education levels and subjects such as early childhood education, special education, physical education, music, arts, and curricular streams of vocational education in 15 years, (as) about 30% of the current workforce will need to be replaced."
Times View: The data suggests an alarming shortage of teachers in the country. There are 1.1 lakh schools with only one teacher. What kind of education will students get there? Ironically, at a time when unemployment is rife, lakhs of teachers' vacancies remain unfulfilled. Clearly, the government needs to focus more sincerely on education. After all, as Benjamin Franklin said, an investment in knowledge pays the best interest.