Airbus Helicopters continues its efforts alongside Leonardo Helicopters to prepare for the potential launch of a European next-generation military rotorcraft by the end of this decade.
But in the shorter term, the manufacturer is eyeing growth in the defence sector, where it believes new products will enable it to seize more market share.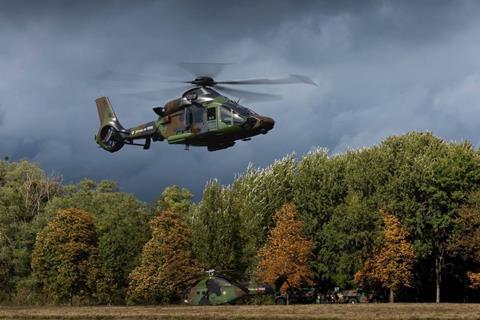 Speaking to investors during the aerospace group's capital market day on 23 September, Airbus Helicopters' chief executive Bruno Even said the airframer will ensure it is "ready to launch a programme, if there is a need, by the end of the decade".
Working as part of a consortium, Airbus and Leonardo were in July awarded a share of €40 million ($38.8 million) by the European Defence Fund for the Next Generation Rotorcraft Technology project, under which the company will "mature the techno-bricks" required for any future development, says Even.
However, the USA is already pursuing its Future Vertical Lift programme, with a high-speed successor to the Sikorsky UH-60 Black Hawk due to be selected in the coming months, potentially leaving European industry playing catch-up.
But Even believes customer requirements may well differ from those of the USA. "There is no reason to think that the need for European nations will be the same as those of the US, in particular, high speed."
A parallel NATO initiative which could see a new medium-class helicopter fielded in the 2035-2040 timeframe – the Next Generation Rotorcraft Capability (NGRC) – is now in the concept phase. Under requirements outlined last year, the platform should have a maximum cruise speed of 220kt (407km/h) or above, and not less than 180kt.
NGRC is led by four countries that Airbus and Leonardo consider as home nations – France, Germany, Italy and the UK – alongside Greece and the Netherlands.
While any future European programme is a longer-term project, says Even, the airframer's immediate target is to grow its share of the global military helicopter market beyond the current figure of 15%.
Even sees the H160M Guepard it is developing for France and the H175M, which has been offered to the UK as a replacement for the UK Royal Air Force's Puma fleet, as being able to "directly contribute" to this goal.
Although Airbus Helicopters may lag its US rivals in the military segment, last year the manufacturer took a 55% share of the civil market.
Even says he wants to "confirm our leadership position" in the civil sector but does not see it as necessary to further grow the overall market share, instead "reinforcing" its share in the medium and super-medium segment, notably through the arrival of the 6t-class H160, which entered service earlier this year.