Home Business Magazine Online
With a plethora of desks on the market, now is the perfect time to make your choice. There are some very promising furniture items, but one that has made its way into the hearts of many is the FlexiSpot Comhar All-in-One Standing Desk with Glass Top.
The Comhar will be sold with a 24% discount during the FlexiSpot site-wide Black Friday sale. We highlight why this desk will make a great gift for an entrepreneurial family member or will be a suitable addition to your own at-home work environment.
A Multi-functional Desk That Enables Productivity
The Comhar desk has an embedded drawer for useful storage space. You can store office supplies, encouraging notes, documents, and other notable business items and keep your space free of clutter. This multi-functional desk has USB charging capabilities, including three USB charging ports. The business owner can keep devices at full charge throughout the day without tripping over a mess of cords on the ground.
Furthermore, the FlexiSpot Comhar has 4 programmable height presets. With an adjustment range of 28.3″-47.6″, multiple people can set their preferred height and seamlessly transition from sitting to standing throughout the day. As many home workspaces will be a shared work environment, this capability will come in handy.
These features are invaluable for entrepreneurs, business owners, or aspiring side hustlers who want to feel good and inspired while in the workspace.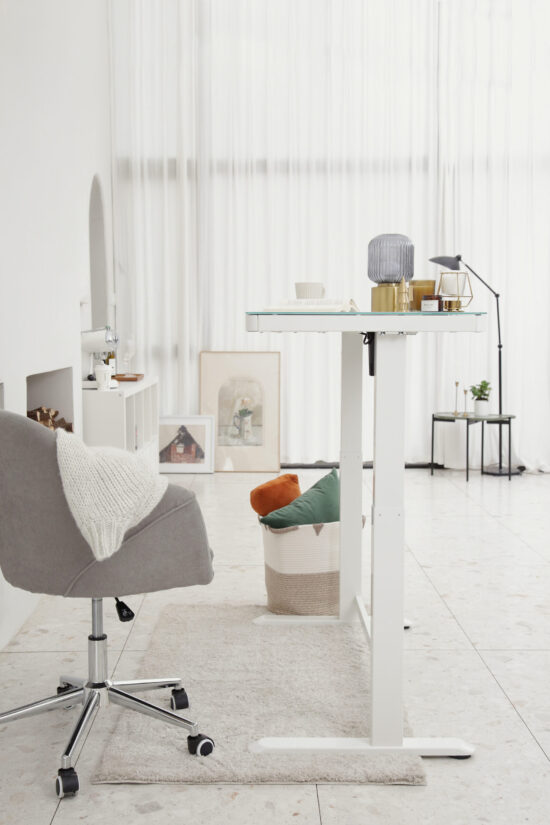 Assembling the Comhar All-in-One Standing Desk
The 3-step assembly process comprises installing the desk frame and the glass tabletop. Next, you will get the desk feet in place by installing them. Lastly, you will connect the power cords to the table.
This stylish piece of equipment is a hit for at-home workers due to its simplicity in the set-up process and its minimalistic design. The final result is a sleek piece of furniture that does not occupy a lot of space or require a great deal of time to set up.
Compelling Design with Superb Functionality
For businesses with limited space, the clean design and minimal structure is ideal. It comes in white or black, which will fit well in any interior design. The ability to adjust based on height will help when running day-to-day operations in the office. Back pain will be decreased and it'll encourage you not to slouch by standing throughout the day.
Its tempered glass top finished with rounded edges will endow an office space with unprecedented elegance and durability. While working at the desk, the individual will feel secure in that the structure is stable and well-crafted. A small nook, corner of a bedroom, or empty wall elsewhere in the home are all that's required to create a suitable home workspace.
The Comhar has an anti-collision function that ensures the desktop won't be harmed and other objects crushed while it's in motion. If you accidentally leave an object under the desk and switch the setting to go back to a sitting position, the desk is geared to stop before any collision takes place. Another security feature is the Safe Lock Button. You can press it to lock the control panel function. If you have any children or pets running around and accidentally prodding the desk, there won't be any change in the settings and you'll remain undisturbed.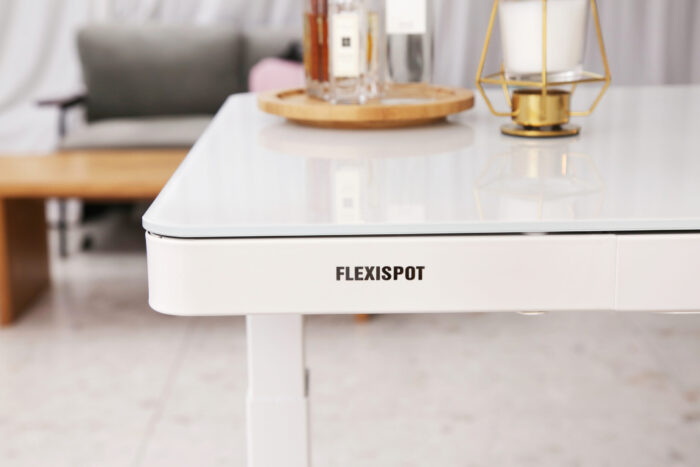 Shipping is prompt and the desk is eco-friendly. FlexiSpot offers a warranty of 5 years for the frame, motor and other mechanisms, and 2 years for the controller and switch. With a 30-day free return policy and numerous positive reviews regarding the desk, there is no denying that the Comhar is a winner in the eyes of many who use it.
Final Thoughts
Beyond working, one can eat food at the desk or play a fun game with coworkers. The user will have an impeccable and secure experience with the Comhar. Aesthetically pleasing to the eye, adjustable as per one's needs, and with the ability to deliver a wide range of functions, the FlexiSpot Comhar All-in-One Standing Desk is an amazing option for the home office. Make sure to take a look at the other top-notch products offered by FlexiSpot while updating the interior of your home.
The post FlexiSpot Comhar All-in-One Standing Desk Is Perfect for a Home Office appeared first on Home Business Magazine.