Take a look at who's confirmed to be on the grid in 2022 across the intermediate and lightweight classes
Announcements have been landing left, right and centre across both the Moto2™ and Moto3™ World Championships after the official list of teams competing in 2022 was released just over two weeks ago. 30 riders will line-up on each grid at the opening round in Qatar and here's exactly who's confirmed to be there and rumoured to be there.
Team boss Eitan Bitbul has confirmed an all-American line-up next year as Cameron Beaubier remains for a second year, buoyed by a career-best result of fifth last time out in Austin. The five-time MotoAmerica Superbike Champion will be joined by the 2021 MotoAmerica Supersport Champion, Sean Dylan Kelly, who will aim to build on the Grand Prix experience he gained at the 2019 Moto2™ season finale in Valencia when he stepped in for Iker Lecuona.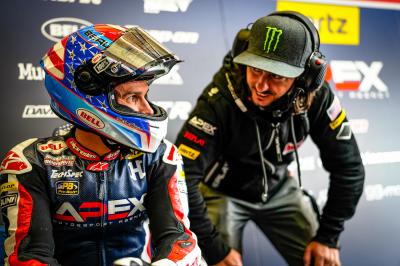 There's been no official confirmation from the squad yet as to who either of their riders will be in 2022, but we can almost say for certain that Celestino Vietti will stay on his side of the box for a second season in the intermediate class. That leaves one space, vacated by the MotoGP™ bound Marco Bezzecchi, with Niccolo Antonelli and Stefano Manzi the front-runners following the recent confirmation that Andrea Migno will be staying in Moto3™ for another year.
Again, no official confirmation yet on their 2022 line-up. However, team boss Gino Borsoi did confirm they were very keen to keep 2019 Moto3™ World Champion Albert Arenas for a second year and that looks very likely to happen. Who will be handed the second seat is still unknown, but various media outlets during the Americas Grand Prix were reporting that Jake Dixon would be making a shock return to the squad for 2022.
Sam Lowes remains with the squad for another year and the experienced Brit will be joined by Tony Arbolino, who has made the switch across from Liqui Moly Intact GP.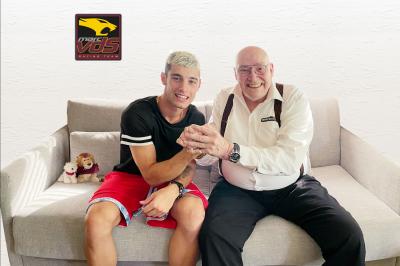 Sito Pons has put together a seriously strong team for 2022, with the two-time World Champion desperate to challenge for the Moto2™ crown again after two difficult years. Both Aron Canet and Jorge Navarro will make the move across from Speed Up to Kalex and form the 2022 FlexBox HP40 line-up.
Nothing official has been released yet but impressive intermediate class rookie Ai Ogura looks set to stay with the squad for a second year. Thailand's Somkiat Chantra also appears likely to remain for 2022.
There'll be continuity in the Italtrans garage in 2022 after they announced they'd be keeping the same rider line-up as this year. Both Joe Roberts and former Moto3™ World Champion Lorenzo Dalla Porta will once again be in blue next year.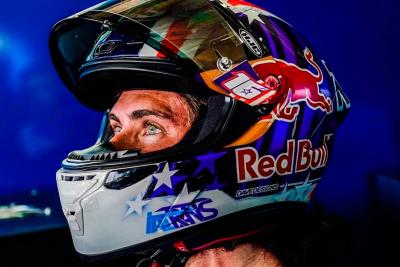 Marcel Schrötter sticks with the German outfit for another year and he'll be partnered by Jeremy Alcoba. The Spaniard will move up from the Moto3™ World Championship to join Jürgen Ling and his intermediate class squad.
There's only one seat confirmed in the Italian squad so far, after Marcos Ramirez signed a one-year deal at the San Marino Grand Prix. Rumours suggest the second seat is yet to be decided, with current riders Lorenzo Baldassarri and Simone Corsi both in contention for it.
Belgium's Barry Baltus will remain after signing a two-year deal at the start of 2021. The identity of Baltus' 2022 teammate is still unknown but we shouldn't have to wait too much longer with an announcement due in the run-up to the Emilia Romagna Grand Prix.
Pertamina Mandalika SAG Team
Flying Dutchman Bo Bendsneyder is set to enjoy a second year in the squad and he'll be joined by rookie Gabriel Rodrigo. The Argentinian is confirmed to move up to the lightweight class after seven years in Moto3™.
Aki Ajo once again has two new faces in his Moto2™ box as both Remy Gardner and Raul Fernandez make the move to MotoGP™ in 2022. Pedro Acosta will be hoping he can make the move up with a Moto3™ World Championship in his back pocket. The young Spaniard will be joined by Mallorca's Augusto Fernandez, who makes the switch from Marc VDS next year.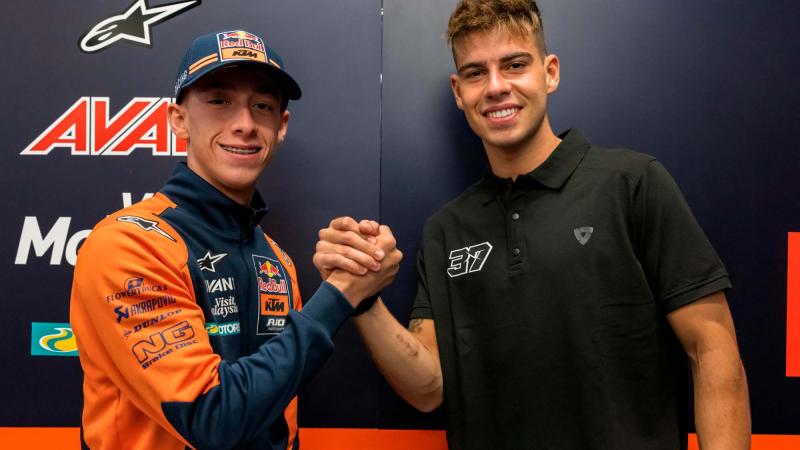 Acosta and Fernandez delighted to join KTM Ajo in Moto2™ 09/09/2021
Romano Fenati has been handed a second bite at the Moto2™ cherry after Luca Boscoscuro confirmed the Italian will join his side in 2022. His teammate is yet to be officially confirmed, although it looks highly likely that Fermin Aldeguer will embark on his first full Grand Prix season with Speed Up after the 16-year-old dominated the Moto2™ European Championship this year.
It's a youthful and inexperienced line-up for the Italian squad in 2022 after they signed Filip Salac and Alessandro Zaccone. The tall Czech rider has outgrown a Moto3™ machine and therefore makes the move up, he'll be joined by FIM Enel MotoE™ title contender Zaccone.
Following the overwhelming success of KTM's junior programme, Yamaha will follow suit in 2022 with their own Moto2™ team. Pablo Nieto confirmed to motogp.com pitlane reporter Jack Appleyard that the squad will be formed by a European and an Asian rider and paddock rumours are linking both World Supersport race winner Manuel Gonzalez and Moto2™ European Championship competitor Keminth Kubo.
Avintia VR46 Riders Academy
No news yet from the Avintia squad as to who their 2022 line-up will be as it hinges on the future of Niccolo Antonelli. Carlos Tatay is heavily rumoured to be leaving the team, meaning if the Italian replaces Marco Bezzecchi in the VR46 Moto2™ team then there'll be two open spots for VR46 Academy's Elia Bartolini and Matteo Bertelle to make their full debuts in 2022. If he stays, only one of the young Italians will make the move up.
Team boss Jose Boe confirmed to motogp.com pitlane reporter Jack Appleyard at the San Marino Grand Prix that he had signed talented Spaniard David Muñoz for 2022, as well as retaining Riccardo Rossi for a second season. Muñoz secured second in the Red Bull Rookies Cup earlier this year and currently sits second in the FIM Junior Moto3™ World Championship with one round remaining.
Kaito Toba stays with the squad for another year and he'll be joined by exciting Junior Moto3™ World Championship talent Joel Kelso. The Australian will embark on a first full Grand Prix season after a handful of wildcard appearances this year.
Aspar will have two firm favourites for the lightweight crown in 2022 after they retained the services of both Sergio Garcia and Moto3™'s newest race winner Izan Guevara.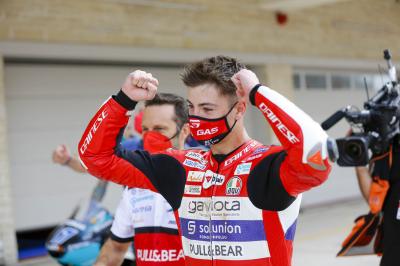 No news yet on if either Yuki Kunii or Andi Farid Izdihar will be remaining in the squad for 2022. After impressing in the Junior World Championship this year, both Takuma Matsuyama and Mario Aji are likely to be in contention for the seats.
Despite being in contention to be crowned Moto3™ World Champion, Dennis Foggia will remain with the Leopard squad for another year in 2022. The Italian will be joined by Tatsuki Suzuki after his switch from SIC58 was confirmed in Misano.
MT Helmets – MSI Race Tech
The first of three new teams to join the grid in 2022, there has been no confirmation who their riders will be yet. A whole host of riders have been linked with Adrian Fernandez, Ryusei Yamanaka, plus Junior World Championship challengers Gerard Riu and Sho Nishimura all rumoured to be in the mix.
No official word from Florial Prüstel yet on his 2022 plans but it's heavily rumoured there'll be big changes ahead of next year. Both Xavi Artigas and Carlos Tatay have been heavily linked with the squad, plus CFMoto, a branch of KTM, are rumoured to be joining the Austrian factory, GASGAS, Husqvarna and Honda as a fifth constructor on the lightweight class grid.
We're still waiting to hear from Aki Ajo on his line-up for next year with one seat definitely available following Acosta's Moto2™ promotion. Jaume Masia is in talks over remaining for another season, with Brazil's Diogo Moreira also believed to be in the mix. In a break from tradition, this year's Red Bull Rookies Cup winner David Alonso looks set to remain with the Aspar Junior Team for another year in the Junior Moto3™ World Championship instead of moving to Ajo.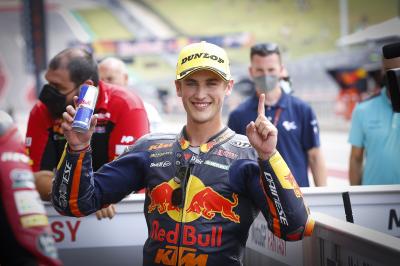 Deniz Öncü will have a new teammate in 2022 as the man currently leading the Junior Moto3™ World Chamoionship, Dani Holgado, moves up for a debut year in the World Championship.
Andrea Migno and Alberto Surra will form the 2022 Snipers line-up after it was announced during the Grand Prix of the Americas.
Frenchman Lorenzo Fellon sticks with Paolo Simoncelli's side for 2022 with his partner yet to be confirmed. After a handful of years in their Junior Team, Josito Garcia will be hoping to finally make the move up to the World Championship full-time next season.
Sterilgarda Max Racing Team
There'll be a brand-new pairing of riders for 2022 in the Husqvarna squad. Ayumu Sasaki is already confirmed to be moving across from Tech3 but his teammate is yet to be confirmed. Scotland's John McPhee is rumoured to be in talks with Peter Oetll and Max Biaggi.
Another new team joining the World Championship next year, Team MTA will promote Ivan Ortola to the lightweight class from the Junior World Championship and he'll be joined by Italy's Stefano Nepa.
An all-British and all-rookie line-up for the final new outfit in 2022. Michael Laverty has signed Junior World Championship race winner Scott Ogden and 16-year-old Josh Whatley for next season.
Every practice session, qualifying battle and race, exclusive interviews, historic races and so much more fantastic content: this is 
VideoPass!