Ottawa is to boost the capability of its National Aerial Surveillance Program (NASP) fleet, with one of its De Havilland Canada Dash 8s to be equipped with Leonardo's Osprey maritime search radar.
"ST Airborne Systems will integrate the Osprey radar onto one of NASP's iconic red Dash 8 aircraft, based in Ottawa," Leonardo says. The active electronically scanned array will provide 360° coverage, "with the ability to identify oil spills and rogue polluters at very long range, day or night," the company adds.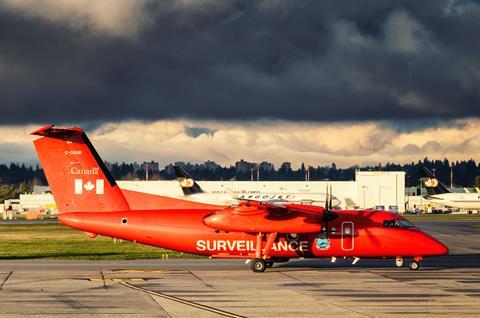 Leonardo says that in addition to performing environmental monitoring, its sensor could also support search and rescue tasks, along with "national security events, police investigations, humanitarian efforts, and civil emergencies".
Sweden's ST Airborne Systems was earlier this year awarded a contract to modify Transport Canada's four NASP aircraft – a trio of Dash 8s and a Viking Air DHC-7 – to carry its MSS 7000 operating system. The work includes installing new mission stations for two operators, along with a high-definition electro-optical/infrared sensor "and a new advanced search radar".
Cirium fleets data shows that the NASP aircraft are aged between 34 and 36 years. Transport Canada has operated the monitoring and surveillance service since 1991, performing up to 4,000 flights per year.