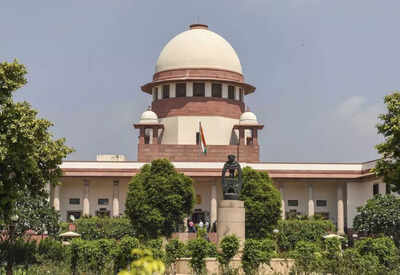 NEW DELHI: The Supreme Court has admitted West Bengal government's petition challenging a Calcutta High Court order directing a CBI probe into cases of post-poll violence in the state, and sought a response from the Centre.
Justices Vineet Saran and Aniruddha Bose said the state has made out a case for issuance of notice to PIL petitioners, based on which HC had ordered CBI probe.
The Bengal government through their counsel Kapil Sibal contended that the HC went by allegations in PIL petitions and a 'biased' report by the National Human Rights Commission (NHRC) teams. He also said the state was not given an opportunity to present to HC the actions it had taken on post-poll violence complaints.
Sibal further said that SC should order that CBI investigation should be subject to the outcome of state government's appeal, and that CBI should not register fresh cases and issue summons to police officers.
The matter has been posted for hearing on October 7.
The Calcutta high court had on August 19 ordered a "court-monitored" CBI probe into cases of murder, rape and attempted rape during the poll process in West Bengal and set up a special investigation team under the supervision of a retired Supreme Court judge to probe other criminal cases.
The Bengal government had moved apex court against the HC order. It expressed lack of confidence in the CBI and said the agency is acting at the behest of the Centre and targeting functionaries of the ruling Trinamool Congress.
FacebookTwitterLinkedinEMail