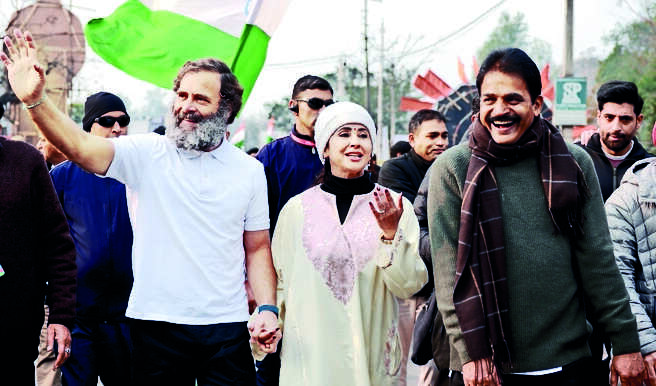 JAMMU: Congress's
Rahul Gandhi
Tuesday joined his party in distancing himself from veteran Digvijaya Singh's "ridiculous" remarks questioning the 2019 surgical strike on terrorist camps in Pakistan's Balakot, saying the country's armed forces "do their job exceptionally well and needn't provide any proof of that".
Appearing to buckle under the barrage of criticism coming his way from within the party, Digvijaya clarified that he "holds the armed forces in the highest regard", also pointing out that his two sisters were married to Navy officers.
The former Madhya Pradesh CM, who is participating in the last leg of Rahul's Bharat Jodo Yatra through J&K, claimed his "questions" were directed at the Narendra Modi government and not the armed forces.
"In any other country, the home minister would have had to resign for lapses like the Pulwama terror attack," he said. "Who is responsible for the unpardonable intelligence failure where 40 CRPF personnel were killed? From where did the terrorists source 300kg of RDX? Why was the request by CRPF to airlift the CRPF personnel denied?" he said of the terror attack that was the trigger for the Balakot airstrike.
At Jhajjar Kotli near Jammu, Rahul said there was no question of him or Congress even trying to defend Digvijaya's remarks. "I don't agree with the statement of Digvijaya Singh. It is crystal clear that we (as a party) disagree with it. It is the official position of Congress."
On whether Congress would initiate any action against the veteran for igniting a controversy that BJP promptly latched onto, Rahul said, "We are a democratic party. We are not a dictatorship. In any case, Digvijaya's personal views are not above that of the party."
Congress's communications in-charge Jairam Ramesh stepped in just when reporters were firing questions at Digvijaya, telling them to "go question PM Modi".
"We have answered all the questions. Congress party has said whatever it wanted to. I tweeted yesterday regarding the same. I do not want to say anything other than this," he said.
(With inputs from New Delhi bureau)
Watch Surgical strike row: 'Don't agree with Digvijay Singh's personal views, says Rahul Gandhi