The UK's air travel recovery continues to lag the comeback in the wider Europe region, despite the country seeing its highest flight numbers since March 2020.
Eurocontrol data shows that while many European states are seeing flight numbers around 30-40% down on 2019 levels during August, the UK's figure was at -54% on 18 August, flat with the previous week. Only Ireland, Israel and Finland were faring worse in Eurocontrol's network. 
Traffic levels fairly stable – with most states 30-40% down on 2019. But note Greece (-8%) and the UK (-54%) @Transport_EU @IATA @A4Europe @CANSOEurope @ECACceac @EBAAorg @eraaorg @ACI_EUROPE pic.twitter.com/m8MIH3P8yQ

— Eamonn Brennan (@eurocontrolDG) August 19, 2021
Therefore, while the UK's Office for National Statistics pointed out that an average of 3,142 flights per day in the week ending 15 August was the country's highest level since 22 March 2020, its airlines are yet to see the recovery momentum being experienced in Europe's other big air travel markets. 
The 7-day average number of UK daily flights in the week ending 15 Aug was 3,142, according to @eurocontrol ✈️

This is the highest weekly average number of UK flights since the week ending 22 Mar 2020 (the day before the first UK national lockdown)

➡️https://t.co/ypOfA37304 pic.twitter.com/os59eZMox5

— Office for National Statistics (ONS) (@ONS) August 19, 2021
Indeed, on 11 August, British Airways flights were down 70% versus the same day in 2019, Eurocontrol data shows, with only Norwegian – which has intentionally slashed the size of its business during the pandemic – recording a bigger reduction in the region.
On the same day, EasyJet's flight numbers were down 46% versus 2019. Unlike BA, however, EasyJet has been able to shift capacity to routes elsewhere in Europe that do not touch its home country.
Several airlines, including EasyJet, have blamed the UK's relatively slow recovery on the country's travel restrictions, including the confusion caused by its traffic-light system and the requirement for fully vaccinated travellers to take Covid-19 tests.
"As a result of the current divergence in government travel policies, EasyJet's bookings for this summer are heavily skewed towards continental Europe," the carrier said during a recent earnings briefing. "Whilst our business is normally split 50-50 between the UK and Europe, at present two-thirds of bookings are coming from Europe."
For TUI Group, the slower-than-expected recovery in its key UK market prompted it to cut its peak summer airline capacity to 60% of 2019 levels, from an earlier projection of 75%.
"More or less everybody treats the vaccinated without restrictions but the UK has PCR tests on return, sometimes even two, and that is of course additional effort and also additional cost [for consumers]," said TUI Group chief executive Fritz Joussen when announcing the company's April-June quarter results on 12 August.
Meanwhile, BA owner IAG recently highlighted how its Spanish carriers were leading its recovery, with UK operations taking longer to bounce back.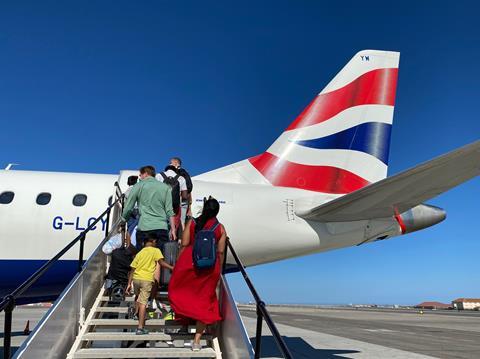 Despite the challenges faced in the UK, Eurocontrol data for its 41 member states continues to suggest that the region's recovery is in line with its best-case scenario. 
Pre-pandemic, around 85% of the flights tracked by Eurocontrol were commercial airline passenger operations, with the rest accounted for by all-cargo, business aviation and non-scheduled services.