The US Air National Guard (ANG) has taken a significant step towards acquiring Leonardo's BriteCloud 218 active decoy to protect its Lockheed Martin F-16 fighters, after issuing a so-called fielding recommendation.
Announcing the development on 24 November, Leonardo says the step follows the conclusion of a three-year foreign comparative test (FCT) process by the US Department of Defense. This involved extensive ground-based and airborne trials of the expendable self-protection equipment.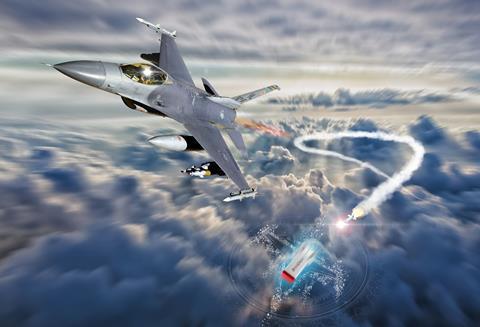 Leonardo says the fielding recommendation signals that the ANG is "confident that the decoy meets and, in some instances, even exceeds operational requirements". Its potential customer's declaration also represents "one of the final stages of the programme and gives the green light to BriteCloud 218 as proven effective and fit for operations", the company adds.
"It looks like it's passed with flying colours," Wayne Smith, Leonardo UK's vice-president sales, electronic warfare, says of the comprehensive FCT process.
Loaded into a fighter's existing chaff and flare dispensers, the BriteCloud round "delivers a major upgrade in aircraft protection compared to traditional expendable countermeasures", Leonardo says. The version produced for the F-16 has dimensions of just 2x1x8in, but "employs a sophisticated on-board electronic warfare capability designed to counter radar-guided threats", it adds.
Accompanying the ANG's endorsement of the company's technology, the BriteCloud 218 also has been given a formal equipment designation for use by the US military: the AN/ALQ-260(V)1.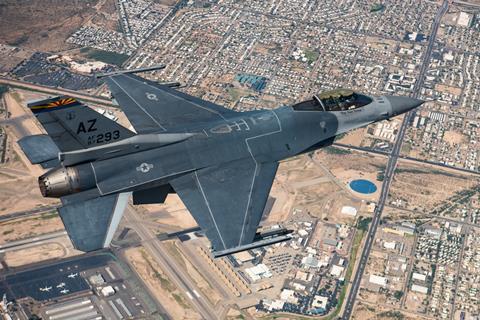 In addition to a possible US procurement to equip the ANG's examples, Smith tells FlightGlobal: "We have really high interest and demand from other F-16 users and other platforms, from NATO [nations] and beyond. We are in close discussions with a number of potential buyers."
Leonardo also identifies the Boeing F-15 and F/A-18, plus the US Air Force's Fairchild-Republic A-10, as among suitable candidates to carry the decoy, and touts its "latest-generation threat protection and extremely low integration costs".
The BriteCloud 218 has also already been tested for the German defence ministry using a target unmanned air vehicle, and deployed from a General Atomics Aeronautical Systems-designed self-protection pod carried by the airframer's MQ-9 Reaper.
Leonardo's drinks can-sized BriteCloud 55 is already operational with the Royal Air Force's Eurofighter Typhoons and will be carried operationally by the Saab Gripen E.
"We have built up a high level of confidence in the system for Typhoon with the 55[mm] format, and now we are getting the same level of confidence from the end user for the 218 format for the F-16," Smith says.
"Combat air has been our focus, and that is the highest interest to date," he says. However, he adds that interest in the BriteCloud 55T – a version of the larger design optimised for carriage by transport aircraft and utility helicopters – has risen since the Russian military's late-February invasion of Ukraine.