Home Business Magazine Online
Many businesses are opting to outsource their IT needs to an IT support provider to save time, money, and headaches.
A managed service provider (MSP) is the perfect solution for any business that doesn't have its own IT department. The MSP manages all of your technology-related needs so that you don't have to worry about them! This article will discuss what an MSP is and how it can help improve your bottom line.
What Is a Managed IT Service Provider?
An MSP, is a company that provides the hardware and software needed for your business's information technology needs without taking on any risk or investment from you as the client. In other words, they are there to serve you! You can think of it this way: an MSP serves as a one-stop-shop for all things technological in your business. They manage everything from servers to computers to cloud services so that nothing falls through the cracks. If something goes wrong with any part of your organization's tech systems, they will be right there to fix it quickly and efficiently — usually before you even notice anything was amiss in the first place!
An MSP manages all aspects of your IT infrastructure, including the following:
Servers
Managed service providers are experts at optimizing workloads and maintaining servers. They will also provide insight into which type of server is best suited to your business needs! This saves you time researching all aspects of the latest technology so that you can focus on what matters — running your business.
Networking
A managed service provider oversees everything related to how data gets from one place to another within the network in your office space. If there's a problem somewhere along this chain, they'll be able to quickly determine where it occurred and fix it for you before anyone notices something has gone wrong! You won't have to worry about any downtime or decreased productivity because their goal is always 100% uptime.
Desktop Management
If your business still relies on desktop computers instead of the cloud, an MSP will be able to manage them for you as well. They can remotely monitor and fix any problems that arise before they become a problem — saving you from spending precious time troubleshooting things yourself or hiring someone new! Even if your company is more mobile than ever with all remote employees working from home offices, managing their desktops remotely gives you even greater peace of mind knowing everything is safe and sound while out in cyberspace.
Cloud Services
Cloud management/serviceman-hours are quickly becoming the preferred method of storing company data because it's much easier to access what you need anywhere at any time. The best-managed service providers allow businesses to store all of their data, secure or otherwise, in the cloud. This means that even if your business is not tech-savvy enough to know how to use a simple software program like Dropbox, it won't be able to hurt your bottom line because an MSP will ensure everything is safe and sound!
The Benefits of Having a Managed IT Service Provider
Peace of Mind
Many business owners have a hard time switching off from work because they're always thinking about their company and how to improve it. If you can relate, outsourcing your IT needs will give you one less thing to worry about so that you can focus on what matters — running the day-to-day operations of your business! This allows you to see everything with fresh eyes and make changes where necessary without having to worry about technology getting in the way.
Expertise
A managed service provider has access to all sorts of resources within its organization. Whether it's for designing optimal server layouts or implementing new software programs, an MSP is constantly networking with other professionals who are at the top of their fields so that they can bring the best services and products to you!
Savings
As we mentioned earlier, hiring a managed service provider is much more affordable than hiring full-time employees. This allows your company to save money for other areas where it's needed. The fact remains: saving money without sacrificing quality or efficiency is always better than having no savings at all. And when you need help, an MSP will be there in a jiffy — even if it means sending someone out late on a Friday night!
Up-To-Date
Modern businesses rely heavily on infrastructure that is always available, as well as employees who know how to use it properly! These days, many companies are moving towards implementing an entirely paperless system, which means everything from signing contracts online instead of printing out dozens of copies for everyone involved, allocating resources like office supplies willy nilly because there's no central database and so much more than just managing files using old school USB drives. An MSP can help you ease into this new digital world, ensuring that everything is always up-to-date and accessible in one place!
Accessibility
When employees need assistance on projects outside regular business hours, most companies will ask you to wait until morning. But not if you have access to an MSP! These services are available 24/seven, 365 days a year! They will provide quick responses and resolutions that don't leave your business in the dark or on hold for hours at a time. This gives way to greater efficiency, which is one of the main principles behind outsourcing IT support.
Flexibility
Flexibility goes hand in hand with accessibility since most businesses work through crazy schedules throughout any given day. It's nice knowing there are people out there who understand this fact — especially when they can help remotely from wherever they happen to be across town or even around the world! The beauty about working with an MSP is that it doesn't matter where they are as long as you have access to them.
Productivity
It should come as no surprise that working with an MSP means increased productivity! There aren't any more distractions like having multiple calls from irate customers whose computers just won't boot up. When you partner with one of these providers, they handle all of that for you. This means your employees are free to work on the projects they need to instead of fielding phone calls about issues conveniently "forgotten" until after hours.
Automation
As mentioned above, many businesses have begun transitioning towards a paperless system — an MSP can help with this process by automating certain tasks and procedures! They will set up programs that do things like detecting viruses, backing up important data, or even scheduling automatic maintenance checks so no one has to worry about it again! This saves countless man hours in tedious IT administration duties.
Security
Sensitive information is something every company values highly because if leaked, it could lead to massive losses across multiple departments, customer service, legal affairs, etc. With an MSP, you can rest assured knowing that all of your data is secure at all times! They are pros when it comes to setting up intricate security systems and will monitor your network for any signs of suspicious activity.
Scalability
Do you have a new project coming down the pipeline? Or maybe the number of employees in one department has doubled? Probably not great timing considering everyone's already busy with their workload. No worries! An MSP is flexible enough to handle sudden changes so there isn't any downtime during peak hours — whether adding on more storage space or simply installing new software, they've got you covered!
Efficiency
A managed service provider helps organizations achieve maximum efficiency by offering services such as remote management, disaster recovery, and help desk support.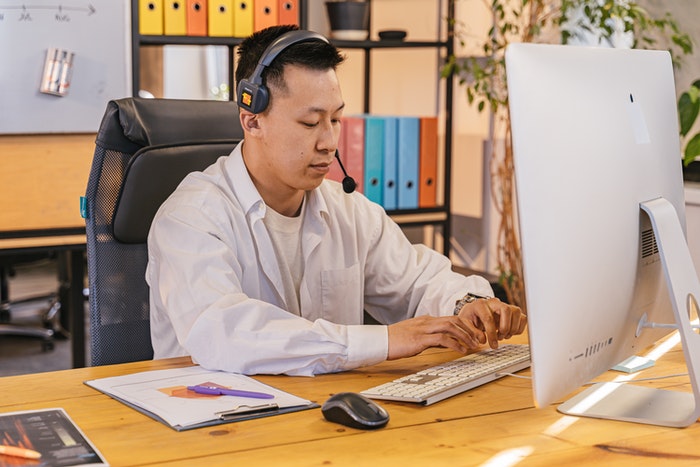 How to Find the Right Managed IT Service Provider for Your Business
Make a list of your needs
Before you even begin looking for an MSP, sit down and make a list of all the technology in your company. What is working well? What isn't? Are there any gaps that need to be filled? Jotting these things down will help narrow down which service provider best suits your business's needs beforehand so that when it comes time to contact them, you can hit the ground running!
Be specific about what IT services you want

After making this initial assessment, take some time and think about exactly what kind of technological services you want your MSP to handle. Are you looking for a company that offers dedicated professionals? 24/365 support? Full-service solutions including both hardware and software services? It's important to be specific so that you can draw up an accurate list of candidates from which to choose.
Research the market
Search online, look at local business listings, or ask around! There are thousands of companies out there providing IT support but it's important to find one whose services align with what your business needs for them not just to meet expectations — they must exceed them! No matter where you search, make sure the potential service providers fit all criteria before making any final decisions.
Consider your options

There are three main types of MSPs: resellers, managed service providers, and cloud service providers. How do they differ? Let's take a look at each one individually to see which best suits what your business needs (and budget).
1. Resellers buy hardware products in bulk from manufacturers like Sony or HP then sell them under their name; this is the most common type of MSP. They can be very cost-effective because they pass savings on to customers but it also means that if something goes wrong with the product, there may not be a warranty. Plus, since these companies typically employ fewer IT professionals than other types of services providers, their response times can be longer and more unpredictable.
2. Managed service providers buy hardware products in bulk from manufacturers like Sony or HP then sell them under their name; this is the most common type of MSP. They can be very cost-effective because they pass savings on to customers but it also means that if something goes wrong with the product, there may not be a warranty. Plus, since these companies typically employ fewer IT professionals than other types of services providers, their response times can be longer and more unpredictable.
3. Cloud service providers lease software rather than buying licenses outright so your business doesn't have to worry about installation problems; all you need is an internet connection! You might end up paying more monthly since the software is hosted in an off-site data center but it can be well worth it if you need to access files from anywhere. Plus, because your MSP has fewer servers to support, they tend to have more resources and provide better service.
Questions to Ask When Choosing an IT Provider
What is included in your services?
While it may seem obvious, you want to make sure that the service provider's offerings are tailored specifically for your business. Don't just settle for any MSP — look for one that can offer custom solutions that will help get rid of all those time-consuming IT problems!
How much do their plans cost?
The price point should be something you're comfortable with so don't base this decision on money alone. However, trying to find an MSP who offers affordable prices while still providing quality service shouldn't prove too difficult because there are plenty out there. You'll have no problem finding someone who fits within your budget if you know exactly what kinds of services and features they need beforehand!
What are their qualifications?
Before you sign on the dotted line, make sure that your MSP has all of the proper certifications and accreditations. They should be licensed to provide service in your area, have plenty of experience with similar company sizes as yours, have a stellar reputation within their industry, and most importantly — they should possess good character.
How do they handle customer support?
You'll want an IT provider who can get back to you quickly if anything goes wrong so look for one offering round-the-clock monitoring! The best ones will also offer 24/365 tech assistance by phone or email so there is no waiting around when it comes time to ask questions or report problems!
Do you need any additional features?
While a good MSP will provide you with round-the-clock monitoring and quick resolution times, this doesn't mean they can't offer additional features to make your experience even better. Does it seem like there are too many hoops to jump through to get an IT problem solved? Look for one that makes things easier by integrating remote access into their services!
How do they handle hardware issues?
When something goes wrong with computer or phone equipment, you'll need someone willing and able to replace parts quickly. The best MSPs also have relationships with local vendors so if anything needs replacing outright — they know exactly where to go! There's no waiting around while trying to figure out what kind of part is needed because the answer is already in place!
Conclusion
Choosing the right IT provider can be difficult, but it doesn't have to be. We've outlined some simple steps and questions you should ask when interviewing potential providers to make sure they're a good fit for your business and needs. Don't waste any more time looking high and low for an IT partner; we've done all of the work for you!
The post What Is a Managed IT Service Provider? A Comprehensive Guide appeared first on Home Business Magazine.